Marcos dictatorship under formal martial law
From IRAIA Wiki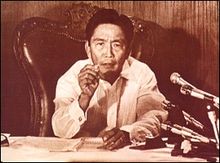 The early years of martial law (1972-1977)
From 23 September 1972 (the day that Proclamation 1081 was actually put into effect) up to 23 August 1977 (the day when Marcos proclaimed his "normalization" policy during the World Law Conference in Manila)--a total of almost five years--can be considered as the early years of martial law. These were the years when the iron-fisted policies of the U.S.-backed Marcos dictatorship were most obvious: the arrests and extended detention without charges, the media censorship, the overnight curfew and travel ban, and the non-convening of a legislature, among others.
Key events leading up to martial law
Earliest organized opposition to martial law
Key events in the early months of martial law (Oct-Dec 1972)
Oct 1972: Marcos says he hopes martial law could be ended and elections held by end-1973 with the ratification of a new constitution. (Source: AP, Sarasota Herald-Tribune, 9 Oct 1972)
Constitutional Convention votes on final draft (30 Nov 1972)
By a final vote of 271-14, the Constitutional Convention completes its work of drafting a new charter setting up a parliamentary democracy with a figurehead president, a strong prime minister, and a single-chamber National Assembly (Batasang Pambansa). Transitory provisions give Marcos the powers of president and prime minister in the old (1935) and new constitutions, and leave it up to him to decide when to convene an interim National Assembly and when to choose his successor. The provisions also confirm all presidential issuances under martial law until they are modified or repealed by the new legislature. (Source: UPI, Beaver County Times, 8 Jan 1973)
Proliferation of underground newspapers
Persistence of mass protests
Govt agents bust CPP urban network (28 Dec 1972)
Government agents conduct raids on alleged communist safehouses, kill two partisans and arrest 30 members of the CPP, including a Politburo member, according to AFP reports released later in January 1973. PC chief Brig. Gen. Fidel Ramos says the raids and arrests foiled a communist plot to assassinate top government leaders with sniper fire and explosives. (Source: The Sydney Morning Herald, 9 Jan 1973)
Note: This news item may be linked to other information that the arrested CPP members were part of the so-called "Explosives Movement" network and that the unidentified Politburo member was Manuel Collantes.
See also: 1972
Key events in 1973
8 Jan 1973: On the 108th day of martial law, Marcos announces on radio-TV the postponement of the 15 Jan national plebiscite on the new constitution and suspends media debate over the charter, claiming that the country was slipping back into old habits. He says that anti-government university students, taking advantage of his decision to allow free debate on the issue, have been expanding their ranks and spreading false rumors. He warns that rumor-mongering is now punishable "in the same category as subversive propaganda." He explains that a date for the plebiscite would be set after a "national consultation" scheduled on 17 Jan through "citizens' assemblies" that are hurriedly being organized throughout the country. Marcos also confirms the death sentence by firing squad on Lim Seng, a Chinese national convicted of the manufacture and trafficking of illegal drugs. (Sources: Milwaukee Journal, 8 Jan 1973; The Sydney Morning Herald, 9 Jan 1973)
January 1973: The draft of the 1971 Constitutional Convention is ratified through barangay assemblies in a so-called national referendum.
The January 1973 Misa ng Kalayaan (protest mass) at the Binondo church, located in one of Manila's oldest districts.
Efforts to continue mass protests
The continuing resistance among political prisoners
27 March 1973: Kissinger (as Nixon's national security adviser) signs National Security Decision Memorandum 209, which stated that "the United States Government will continue to deal with the Marcos Administration as the effective Government of the Philippines." (Bonner 1987, 138)
19 April 1973: Marcos urges that all military and economic agreements between The Philippines and the US be renegotiated "at one sitting." Agreements due for renegotiation are the US-RP Military Bases Agreement, the US-RP Mutual Defense Treaty, and the Laurel-Langley Agreement that is set to expire in July 1974. (The Milwaukee Sentinel, 20 Apr 1973)
28-29 July 1973: The Marcos regime conducts a two-day national referendum to ask voters' approval for extending Marcos' martial law government after his regular term in office ends in December 1973. (Source: Sydney Morning Herald/AAP-Reuter, 30 Jul 1973; Star-News, 27 July 1973))
Main story: Marcos national referendum (July 1973)
December 1973: the US Sugar Act expires, ending the official American quota for sugar for the Philippines. For 15 years previous, the country has been the major US supplier of sugar to the US.
See also: 1973
Key events in 1974
Jolo razed, thousands feared dead in AFP-MNLF battles (February 1974).
Main story: 1974 razing of Jolo
The Laurel-Langley Agreement expires on 3 July 1974.
Lechoco holds Ambassador Romualdez hostage (18 Nov 1974)
Marcos offers to meet a demand from gunman Napoleon Lechoco, who is holding Ambassador Eduardo Z. Romualdez and another man hostage. Marcos offers to give Lechoco's son a passport to leave the Philippines. Romualdez, a cousin of Imelda, is being held by the gunman in his 4th floor office in a building on Washington's embassy row. Lechoco is a lawyer from Prince Georges County, Md.
See also: 1974
Key events in 1975
Referendum on martial law. 27-28 Feb 1975: Marcos conducts a referendum on his martial law powers (whether people approve of martial law and whether they want him to continue) and the creation of the Metro Manila Commission. The opposition, including five of the 66 Catholic bishops, are calling for a boycott. Comelec chairman Leonardo Perez issues a warning that people who fail to vote may face arrest, prosecution and 1-6 months in jail. (Source: AP, Lewiston Daily Sun, 27 Feb 1975)
Kabataang Barangay elections, May 1975.
In April-May 1975, Marcos sharply questions the need for US bases in the Philippines, in an obvious bargaining posture to get a higher rental price.
Marcos state visit to China. In June 1975, the Philippines establishes diplomatic ties with China during Marcos' state visit.
In July 1975, Marcos clarifies that the country needs the US bases because it could not afford to provide for its own defense.
La Tondena strike. The La Tondena strike breaks the silence among Metro Manila workers
Gimo de Vega shot dead inside Malacanang. 27 Oct 1975: Marcos presidential assistant Guillermo C. de Vega is shot and killed shortly after noon at his office in Malacanang Palace. De Vega, 43, is one of three presidential assistants who served Marcos in many capacities. In February 1975, Marcos sent him to the U.S. to meet Primitivo Mijares (a former Marcos aide who turned against his boss). Mijares claims that De Vega offered him a bribe not to appear in June 1975 before a US congressional probe inquiring into the Philippines' human rights record. Marcos denies the charge but concedes that De Vega on behalf of the government had previously given Mijares USD 45,000 to start a newspaper and to spy on anti-Marcos Filipinos in the US. (AP, Tuscaloosa News, 27 Oct 1975)
Imelda Marcos named MMC governor. In November 1975, Marcos names his wife Imelda as governor of the Metro Manila Commission
See also: 1975
Key events in 1976
Mass upsurge in workers' strikes, urban poor struggles in Metro Manila
In May 1976, Marcos visits the Soviet Union in a move to establish diplomatic ties between the Philippines and the Soviet Union. The country is the last major Southeast Asian country to establish ties with the USSR.
The October 1976 national referendum-plebiscite on martial law continuation and on substituting the Interim Batasang Pambansa for the Regular Batasang Pambansa
See also: 1976
The "normalization" period (1977-1980)
The years from 1977 to 1980 comprise the so-called normalization or "transition" period, on the Marcos promise--which turns to be a false premise--that martial law is being phased out and "regular democratic processes" are being phased in.
Key events in 1977
Marcos declares "normalization" policy and process
23 Aug 1977: During the opening session of the World Law Conference in Manila, Marcos announces he will free political prisoners, lift a 1-4 a.m. curfew and an international travel ban on Filipinos, and hold local elections in 1978. (Source: UPI, Rome-News Tribune, 23 Aug 1977)
30 Oct 1977 (Sun): Marcos' hand-picked 130-member Legislative Advisory Council agrees to his plan to substitute a nationwide referendum on his martial law rule for a scheduled presidential election 17 Dec., after a two-day session that ended Sunday. In the December voting, Filipinos will be asked if they want Marcos to continue in office as president and prime minister after the organization of an interim national assembly. (Source: The Telegraph-Herald/UPI, 31 Oct 1977)
10 Nov 1977: Jose Maria Sison, then chairman of the outlawed CPP, is captured.
25 November 1977: A seven-man military tribunal delivers a guilty verdict against Aquino and co-accused NPA leaders Bernabe Buscayno and Victor Corpus, and sentences them to death by firing squad, after a 15-month long trial on charges of subversion, murder and illegal possession of firearms. Aquino appeals the decision with the SC, citing flaws in trial procedure. On 29 Nov, Marcos announces the trial would be reopened to give Aquino a chance to present a defense. (Source: UPI, Boca Raton News, 7 Dec 1977; AP, Herald-Journal, 1 Dec 1977)
The December 1977 referendum affirms that Marcos may continue his martial law powers after the IBP is formed.
See also: 1977
Key events in 1978
The Lakas ng Bayan (LABAN) electoral campaign
Interim Batasan Pambansa elections
The April 6, 1978 noise barrage and other mass protests
14 Sept 1978: Fokker plane carrying partygoers from Marcos' birthday celebrations crash into a Manila suburb, killing at least 15 persons aboard the plane and nine residents on the ground. Six survivors include a half-brother of Imelda. Ferdinand Jr (Bongbong) was supposed to be aboard the flight, but switched to another plane at the last minute. (Source: The Morning Record and Journal/UPI, 15 Sep 1978)
See also: 1978
Key events in 1979
The May 1979 Sangguniang Pampook elections for the Regional Legislative Assembly in selected regions of Mindanao.
July 1979: Marcos suspends work on the USD 1.1-billion nuclear plant being built by Westinghouse Electric in Morong, Bataan, after the Three Mile plant accident in Pennsylvania.
December 1979: Rules on martial law detainees relaxed.
Deputy Defense Minister Carmelo Z. Barbero announces relaxation of rules guiding martial law detainees, "to give substance to the normalization policies" of Marcos. He gives Marcos a list of 70-80 persons, half of whom have been granted temporary releases. This includes Benigno Aquino Jr., who has been granted a two-week-long prison leave. An inventory of martial law prisoners ordered by Barbero shows there are 1,852 detainees as of November 1984, including 579 persons accused of subversion, sedition and other political crimes. The rest are accused of non-political crimes. (Source: AP wires, Lewiston Daily Sun, 27 Dec 1979)
See also: 1979
Key events in 1980
The January 1980 local elections
April 1980--Marcos makes his first visit to the US in 11 years, arriving in Hawaii 19 April. He calls for an expanded dialogue between the US and the Philippines. He is slated explain his martial law policies when he addresses the annual convention of the American Newspaper Publishers Association on 22 April in Waikiki. (Source: Lewiston Morning Tribune/AP 20 Apr 1980)
The May 1980 Kabayaang Barangay elections
4 August--Benigno Aquino Jr announces he would not return to his prison cell in the Philippines as he earlier promised, and would instead accept a fellowship at Harvard University. He also calls on Marcos to dismantle martial law. "I am not suggesting he quit now. I am suggesting a transition period, a cut-off date for dismantling his martial law Government." Explaining why he broke his promise, Aquino says: "I did promise, I did make a covenant. That promise has been taken care of by Marcos when he said in public that I could stay in the United States indefinitely." (Source: The Age, 5 Aug 1980)
The April 6 Liberation Movement
The April 6 Liberation Movement or A6LM has claimed responsibility for a series of bombings in Manila since August 22, all directed against government agencies or businesses identified with the Marcos regime. One such explosion in September at a Manila department store killed a woman from New York and wounded a number of shoppers and bystanders. The group proclaimed in one manifesto: "We won't stop till he (Marcos) is out or dead." The Marcos government claims A6LM has links with anti-Marcos opposition groups in the Philippines and the U.S.
Victor Lovely is arrested (4 Sep 1980)
On 4 September, Victor Burns Lovely, a 35-year-old Filipino-American holding a U.S. passport, is arrested after he is seriously hurt in an explosion in his room at the Manila YMCA. Authorities say he was constructing the bomb when it accidentally exploded. Subsequently, Defense Minister Enrile says there are an estimated two dozen guerrillas who, like Lovely, have been trained to conduct a violent campaign against the Marcos regime. (Source: Pittsburgh Post-Gazette, 20 Oct 1980; Herald-Journal, 21 Oct 1980)
See also: 1980